Memories are our most precious possession and often come to life through something small. Therein lies the power of a souvenir. Since the early 1950s, KLM Royal Dutch Airline presents each passenger in Business Class on long haul with a Delft Blue gift, a miniature of a typical Dutch house.
To date, the collection consist of 102 miniature houses, 14 rare Limited Editions and a number of specials (often issued on festive occasions). Avid collectors might like to know what their houses are worth*.
The Delft blue miniatures are modeled after monuments from across the Netherlands. The houses are filled with stories that connect people across the globe, to inspire us and enrich everybody with knowledge. Dutch author Mark Zegeling wrote several books about the real houses and landmark buildings. More than half of them can be admired in Amsterdam, the capital of the Netherlands. Notable historic architecture from 30 other cities is part of the collection as well.
To provide some guidance and support to (aspiring) collectors, Dutch publishing company MarkMedia & Art has conducted a comprehensive, survey among almost 200 collectors worldwide. In February 2022, the KLM House Index was released for a 3nd time (the first survey was published in 2016, the second in 2020). You will find the most recent average price of all Limited Editions and Specials at the bottom of this article.
*The collectors' value is published on this website if at least 10 collectors and/or professional traders have discretely shared their prices. Anonymous price lists have not been taken into account.
** For your information, MarkMedia & Art operates independently from KLM Royal Dutch Airlines and other parties involved behind the KLM House Collection. We don't trade nor buy miniatures ourselves and have never done so. There is no professional relationship with any auction house, e-commerce platforms such as Catawiki, eBay or Marktplaats, nor with Delftware shops or traders of KLM miniature houses. All content provided in this article is for informational purposes only.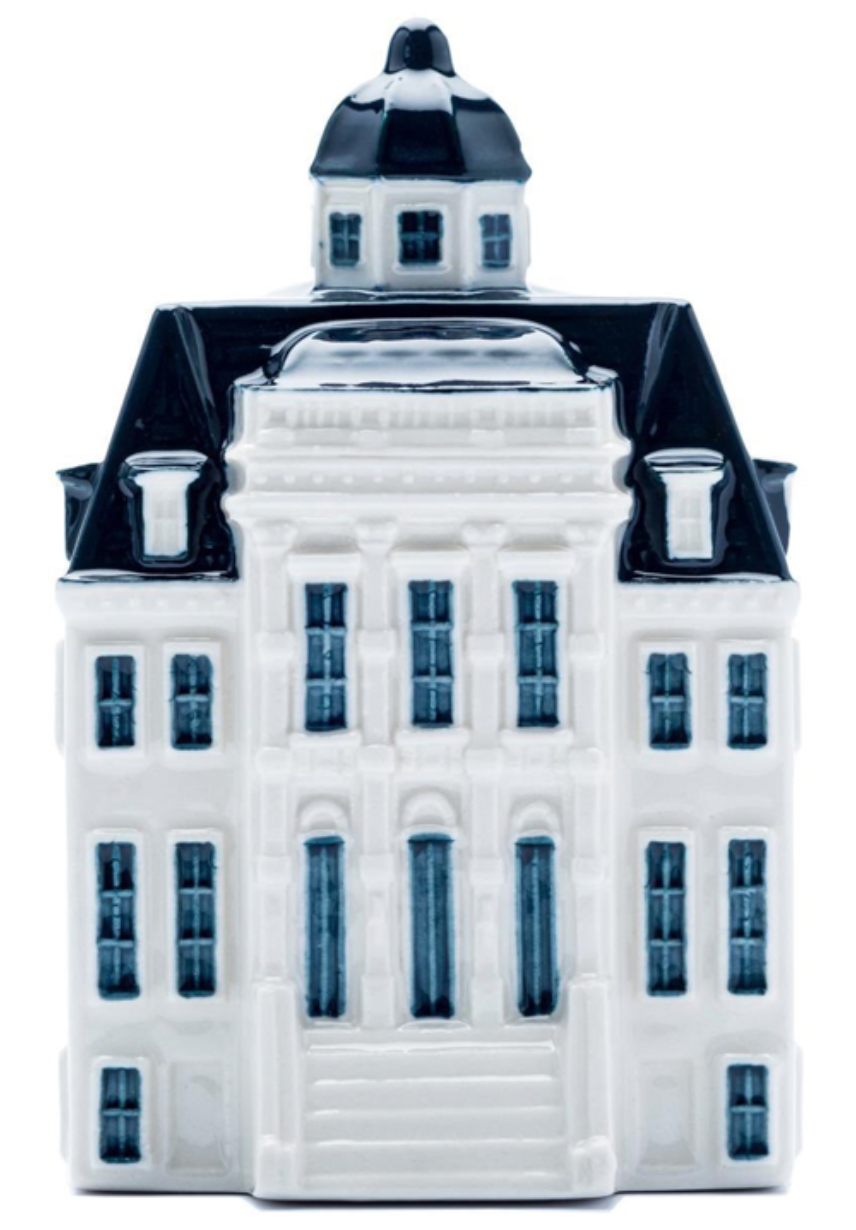 The value of a 'normal' house
Each year, about 850,000 Delft Blue miniatures are issued, filled with genever. 150,000 houses remain empty for travelers to some destinations in the Middel East where alcohol is prohibited. In general, as long as the genever is still inside, the value of a normal house is higher than an empty one. Prices range from 5 euros to 30 euros for the latest numbers. Only the value of house no. 100, a replica of Royal Palace Huis ten Bosch, given to employees of KLM on the occasion of the centennial of the company too is different. The regular no. 100 has a value of about 45 euros, while the employees-edition with a special text on the back will cost you about 60 euros.
In addition to the release of the regular KLM houses filled with genever, there are 14 Limited Editions and a number of specials, given on a special occasion.
A lasting wedding present
The first of the limited editions (not issued on board of KLM) is a replica of the Frans Hals Museum in Haarlem. The miniature was presented in 1962 to mark the occasion of a unique retrospective exhibition of the celebrated artist. The Royal Palace Amsterdam piece, released in 1986, was presented to honeymooners traveling in Royal Class (the present-day World Business Class). Over the years, several other editions of the Royal Palace miniature have been issued. The largest version is about 50 cm wide, 27 cm tall and 11 cm deep. This truly king-size model was awarded to winners of the KLM Open Golf Tournament (since 2004). One piece has been auctioned off at the 34th Peter Stuyvesant Ball in New York, on November 20, 2015. In the past years, several golf profs have sold their Palace to collectioneurs. (We have received news about the prices paid, but we choose to only publishing the collectors value when at least 10 pieces have been sold, and that's not (yet) the case. If you like to get in contact with the present owners, you can send us an email for further information).
On April 30, 2013, on the day Willem-Alexander ascended the throne to become king of the Netherlands, Business Class passengers who boarded an intercontinental KLM flight at Schiphol Airport were given a small edition of the Royal Palace as a souvenir to this day. Even more exclusive is the 360° version of the 17th-century edifice, with both front and rear facades, which KLM commissioned in the summer of 2014. This miniature is given by the president of KLM as a gift to diplomats, important (foreign) partners and high ranking guests. In 2021, one piece was also auctioned off during a festive event of the Netherland-America Foundation.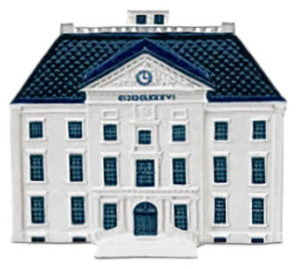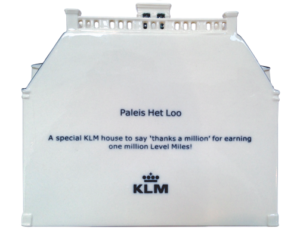 Royal Palace Het Loo
Only awarded to those who have flown World Business Class at least 60 times a year for 10 consecutive years, and having accumulated more than one-million air miles in KLM's frequent-flyer program.
The Maritime Museum Amsterdam
Another collector's item was issued on January 19, 2016. During the first six months of that year, the Netherlands holds the Presidency of the Council of European Union. The Limited Edition represents the Maritime Museum in Amsterdam, which was the venue for top formal and informal ministerial meetings.
In 2018 a Delft Blue replica of the Hermitage Museum Amsterdam was issued on the occasion of the exhibition 'Dutch Masters from the Hermitage'. Hundreds of years after being purchased by the Tsars of Russia, 67 works by 51 different Dutch Golden Age artists from the Hermitage in St. Petersburg where transported by KLM Cargo to the Netherlands for a brief time. The limited miniature edition of the Hermitage Museum Amsterdam commemorated this extraordinary transport.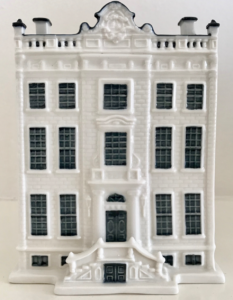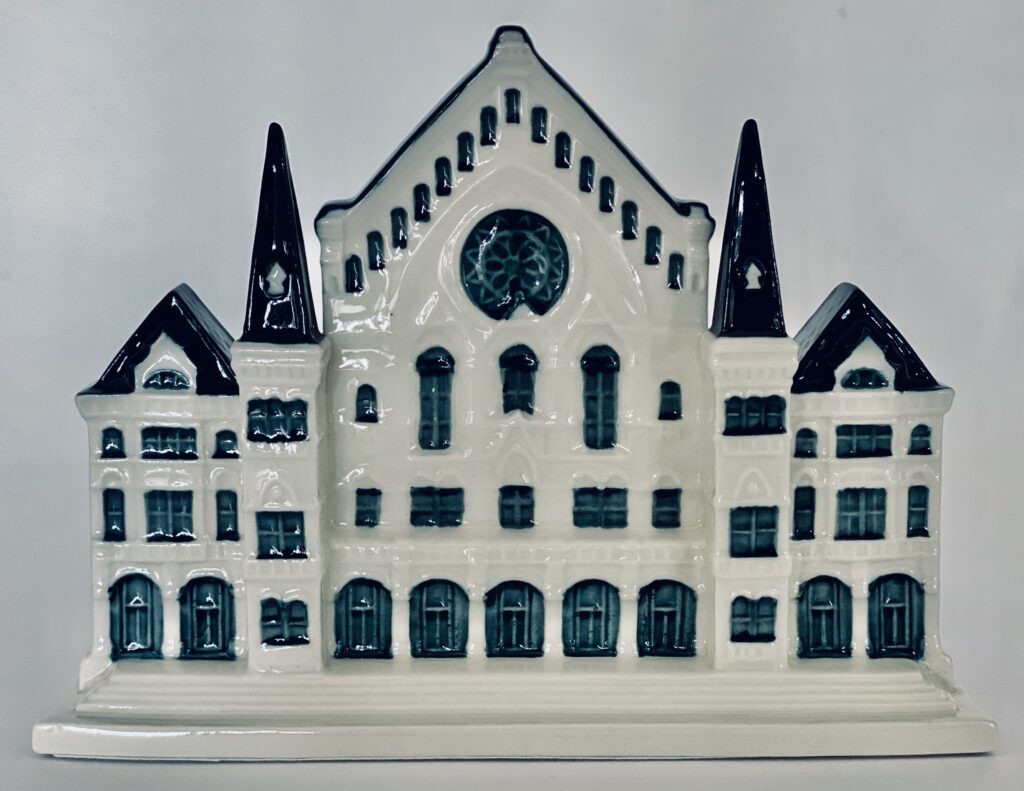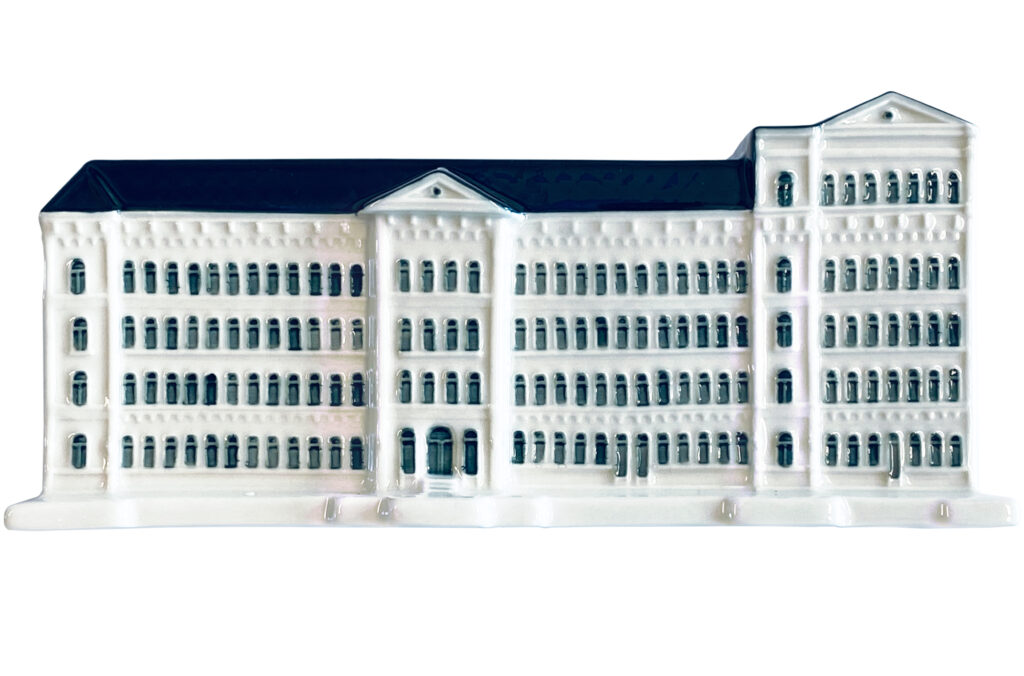 On January 29, 2022, KLM Royal Dutch Airlines president Pieter Elbers paid an honorable tribute to the Okura Hotel Amsterdam and its 50 years of services by revealing a Delft blue miniature of the iconic hotel. Eight years after the opening of the first Okura hotel in Tokyo in 1962, the Okura family and their business partners spread their wings to Europa. In September 1971, Okura Hotel Amsterdam has started its operation, after a festive ceremony conducted by HRH Prince Claus of the Netherlands.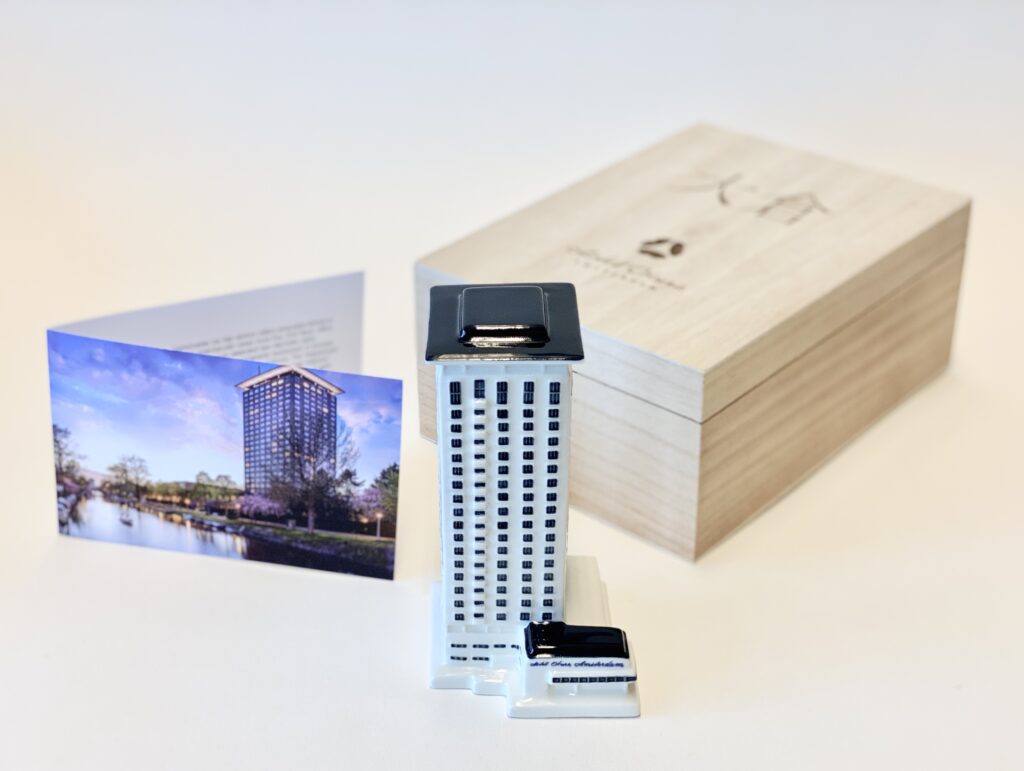 Below is the average value of 14 Limited Editions and some Specials, according to a global survey conducted between November 2020 and January 2021.
1). Frans Hals Museum: 900 euros
2a). Royal Palace Amsterdam (wedding gift, there are editions with a hexagon tower – 6 sides, and a octagonal tower – 8 sides): 250 euros
2b). small Royal Palace Amsterdam issued on April 30, 2013, the day Willem-Alexander was crowned as King of the Netherlands: 465 euros
2c). Royal Palace Amsterdam 360° version: 8,100 euros
3). The Weigh House Gouda: 250 euros
4). House ter Kleef (oldest inner tennis court of the world): 500 euros
5a). Hall of Knights/Ridderzaal (edition 2009): 3,600 euros
5b). Hall of Knights/Ridderzaal (2018, more detailled): 8,250 euros
6). Royal Theater Carré in Amsterdam: 3,200 euros
7). Royal Concertgebouw Amsterdam: 5,500 euros
8). Royal Palace Het Loo in Apeldoorn: 11,300 euros
9a. Maritime Museum Amsterdam: 700 euros
9b. Maritime Museum Amsterdam (misspelling word 'Fom' instead of 'For' in the text at the bottom of the miniature – 'Blue Delft's special edition exclusively made fom KLM' 350 euros
10. Hermitage Museum Amsterdam: 5,500 euros
11. Waldorf Astoria Hotel Amsterdam: 5,000 euros
12. Cincinatti Music Hall, Ohio: 8,000 euros
13. Gassan Diamonds, Amsterdam: 8,500 euros
14. Okura Hotel Amsterdam: no information yet.
Specials:
purple Bonaire houses (3 pieces): 1,465 euros
Chinese Pagode Temple of Heaven: 1,375 euros
Manilla House: 425 euros
Kunuku House Curacao: 300 euros
Baan Hollanda Ayutthaya: 1000 euros
For more information: klmhouse-index @ markmedia.nl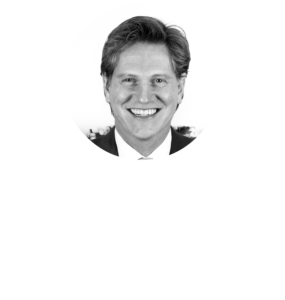 Mark Zegeling
Author Kingdom by the Sea, 
A celebration of Dutch cultural heritage and architecture